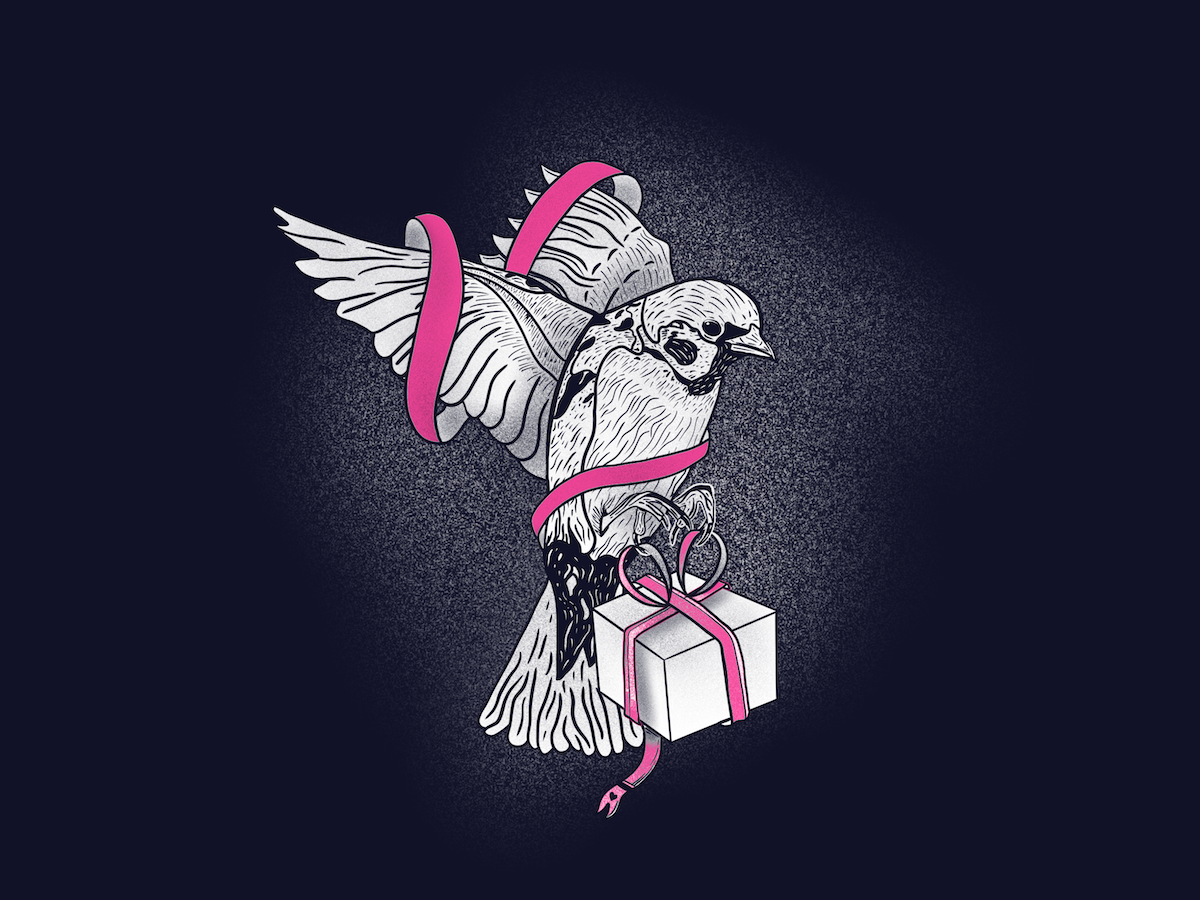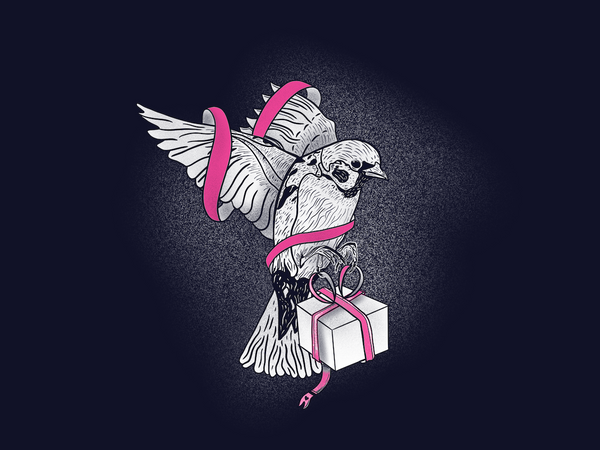 I reckon we can all forgive ourselves for not wanting to participate in this year's new year resolutions (what's exercise anyway? 😵).
Luckily we come bearing gifts for your HelpDocs subscription with an entirely redesigned dashboard, snazzy new stats, and a better Clips experience.
A Better Dashboard Experience for Your Whole Team
We've heard from a load of customers who spend their entire day in HelpDocs. While that's both terrifying and thrilling we thought we could do better with the experience for editors and admins alike.
We could've slowly improved the experience for the next year or so but that's not how we roll. We decided to go all-in and rip the whole dashboard apart...and rebuild it again piece by piece.
After a couple months work we're super excited to show off our new dashboard. And it's live for customers now if you haven't already seen it 👀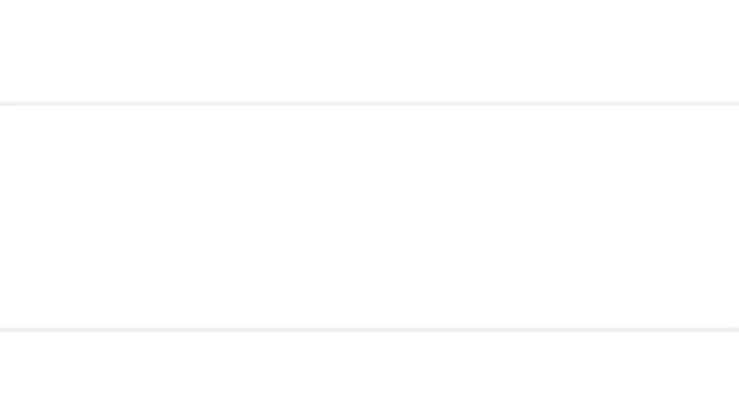 The whole experience is more accessible, consistent, and a lot more responsive. Components like the text editor have larger text so it's easier to write and edit your work. The content list is now easier to understand with a streamlined design. The settings tabs are consistent and have the same menus so your team can customize your Knowledge Base quicker.
We hope you enjoy using it as much as we've had building it 🌟
See What's Up & Down With Stats Trends
Keeping up with your Knowledge Base stats can be challenging. Are things going better? Worse? The same? Without comparing datasets and combing through numbers in spreadsheets it's not obvious at all.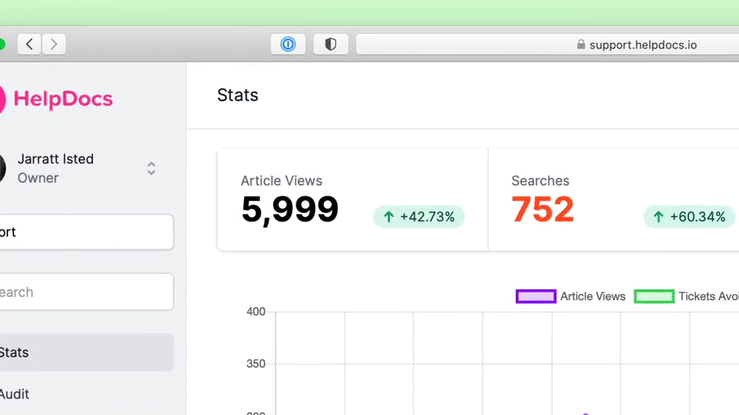 That's why we're proud to introduce Stats Trends! With Stats Trends you'll be able to understand how things are going for your self-serve help in a glance.
Just head to your Stats tab (in the new dashboard 💯) and you'll see trends if you have enough data available. If not, sit back and wait for the numbers to roll in.
See What's Missing with Missed Searches
When you're first building out your Knowledge Base you're going with your gut. What kind of answers might customers be on the hunt for? What features do we have and how can we explain them?
As your Knowledge Base grows you'll soon find customers hunting for you using your search bar. Using our existing search analytics you can already see what customers are typing.

With Missed Searches we've surfaced the search terms that get no results for you to write articles about them if you think that's the way to go. You'll find these at the bottom of your existing search analytics.
Zoom in on Stats
Ever wanna know more about the stats on a certain day? We got you! When you're on the Stats page just click on a datapoint on the graph.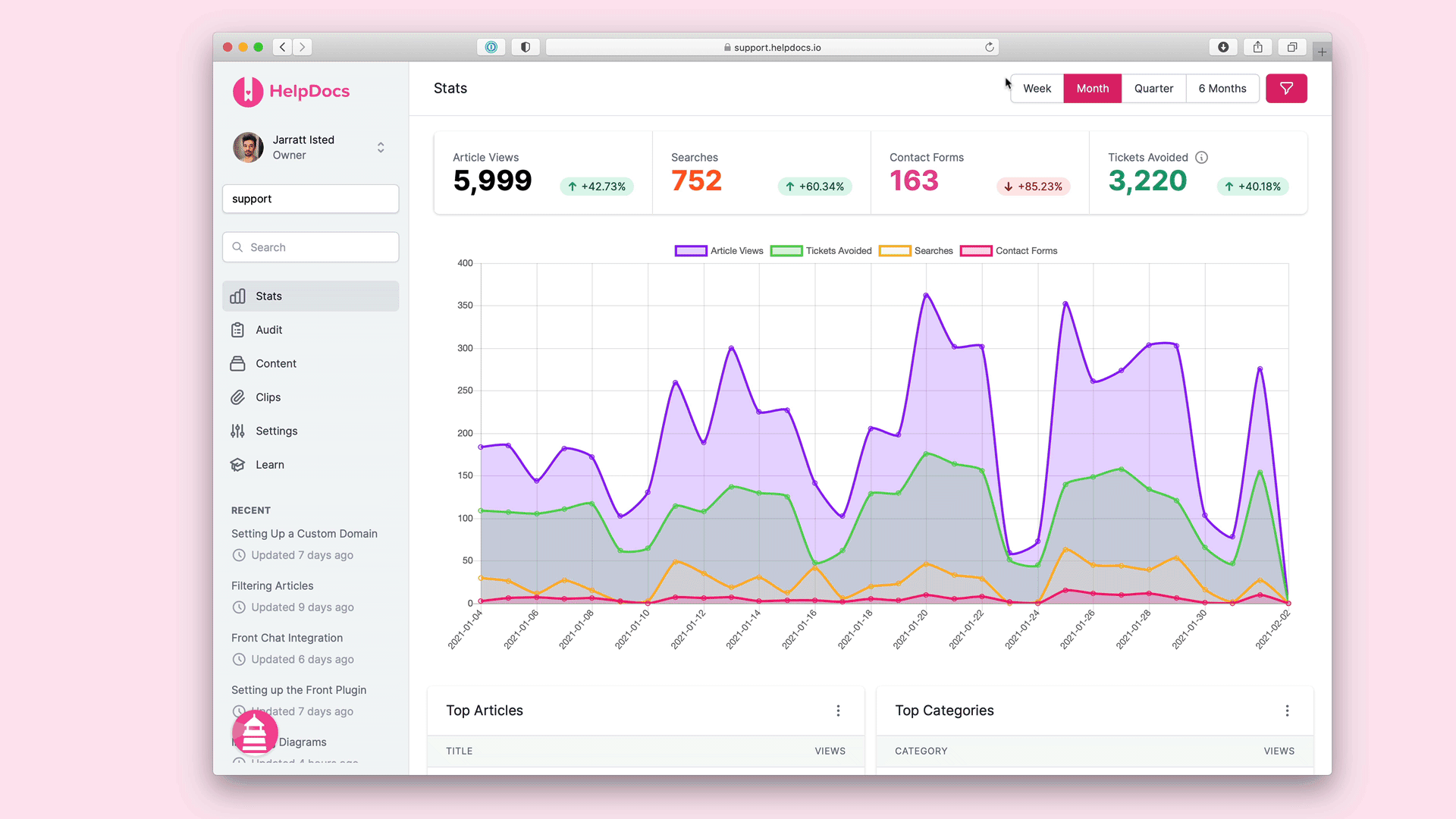 Do that and BAM. You've got a neat lil' breakdown about which articles and categories people looked at most.
Clips in the Spotlight
When we first launched Clips we didn't realize how important they'd become to writers and editors to speed up their workflow.
Since then we've been inspired by how our customers have been using Clips. They're used to speed up new articles, insert complicated HTML blocks, and pre-create formatting.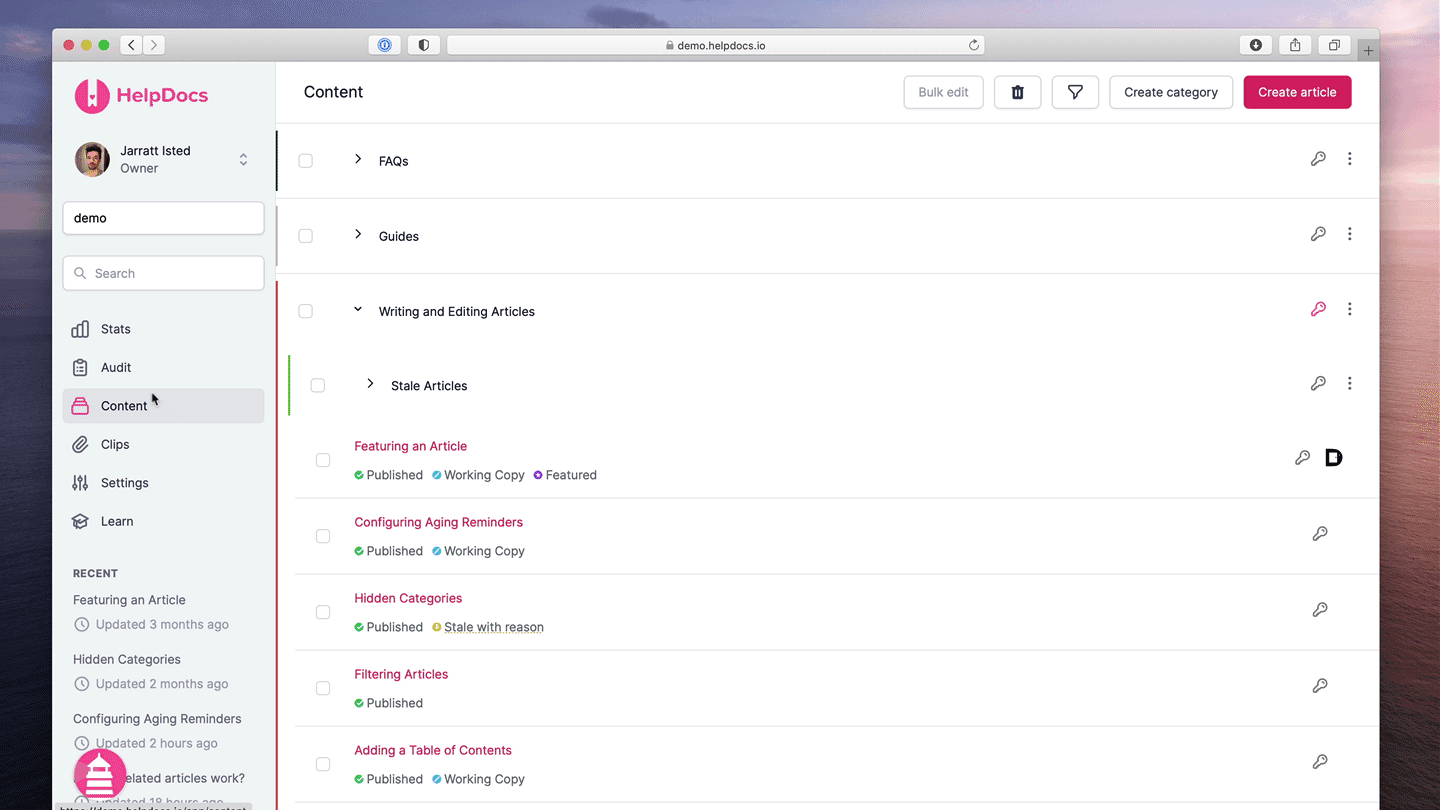 We thought this was enough reason to revitalize Clips and put it in the spotlight. You'll notice a new Clips tab in the menu bar on the left in the new dashboard. From here you can view, create, and edit Clips in a clearer view.
Other Updates
New
We added a few more motivational messages to our loader 🥛
We now support the new Gorgias widget
Improved
Audit had a makeover! It's now easier than ever to see who did what and when
The admin app is now more mobile responsive. That means you can do more on the go 🚶
Accountants rejoice! Invoices now show on enterprise and custom plans
Lighthouse navigates between articles better