With the holiday season well into swing, we thought we'd wrap up 2017 with a right cracker.
We've been busy little elves, shipping sleighing a sack full of integrations, optimising the app, and making a host of other improvements behind the workshop. ⛄️
A trio of new integrations
HelpDocs is all about being able to keep your help center separate, so we love shipping new integrations. This way, you can connect up even more useful tools without having to commit to just one.
elevio

A help center is only useful if customers know about it. Linking to it from your app is one thing, but having a widget right there for them to open? That's even more awesome.
We've teamed up with the elevio team to offer syncing. Just create an API key in HelpDocs and paste it into elevio. Now all of your articles will be synced to your elevio account. Neat, huh?
Drift
We were excited to see our friends over at Drift launch their developer platform. We knew there was something we could build to tighten our integration even more. So we did.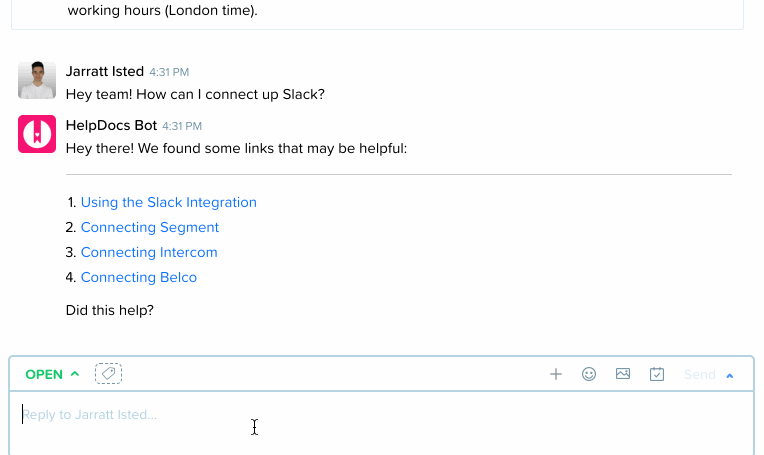 When chatting with a customer or lead, simply type /hd followed by the query you want to search for in the composer and voila! You'll have a list of lovely relevant articles right there inline.
Either send it right away or edit the message to make it more personable. We'll be working on making it even snazzier, so stay tuned.
Disqus


We've been hearing from users who want customers to be able to comment on their help center. The issue we ran into is that creating a place to moderate comments and protect them from robots takes quite a bit of engineering.
So instead of building comments out ourselves we've integrated with Disqus, a popular option you've probably seen under blogs.
It's quick and simple to create an account and all you need to hook it up to us is your forum shortname. Easy as Christmas pudding.
Super speedy & reliable hosting
Something mega amazing has happened under the hood. We've switched our entire hosting from Heroku to Digital Ocean, so the app is now snappier, more reliable, and more secure than ever before.
A big thanks to Phil (our fantastic engineer) who joined last month for pulling this off. He's been working around the clock.
Introducing My.HelpDocs
After looking at our analytics, we found our most popular article this quarter was Logging Into Your HelpDocs. We knew we had to come up with something easier for our users.
I'm proud to introduce My.HelpDocs. Just click that link (or click login on our homepage) and if you have multiple accounts, choose the one you're looking to log into.
Not more forgetting your slug and getting confused about where to log in.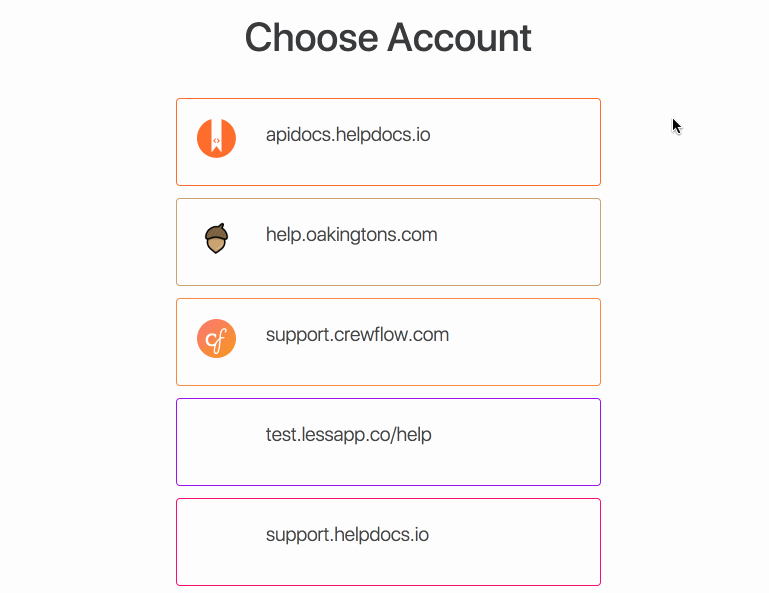 Other, Smaller Stuff
| | |
| --- | --- |
| | The article linker went a little squiffy on accounts with query strings. We fixed that. |
| | The i18n strings on 404 pages just weren't working. Good news, they are now! |
| | Got subfolder hosting? Multilingual redirects on subfolder hosting accounts will now work. 🗂 |
| | Caching is so hot right now, except it wasn't before on article's created through our API. Now it's hot again. |
| | Sitemap image URLs are now properly parsed. Yay! |
| | Redirects can now have query strings. Neat, right? |
| | SEO juice boost. We now use h1 for article titles on our latest templates. 🥤 |
| | We hide invoices tab when customer isn't subscribed, because why would they show otherwise? Oops. |
| | You can now sort your Subcategories in the dashboard. This took some real heavy thinking. 🤔 |
| | We removed the 'Team Member' role, and renamed 'Customer' to 'Read-Only' 🛀 |
| | Invite users without sending an email to them. |
| | Download analytics as CSV to check over at meetings |
| | We now log and show similar query analytics |