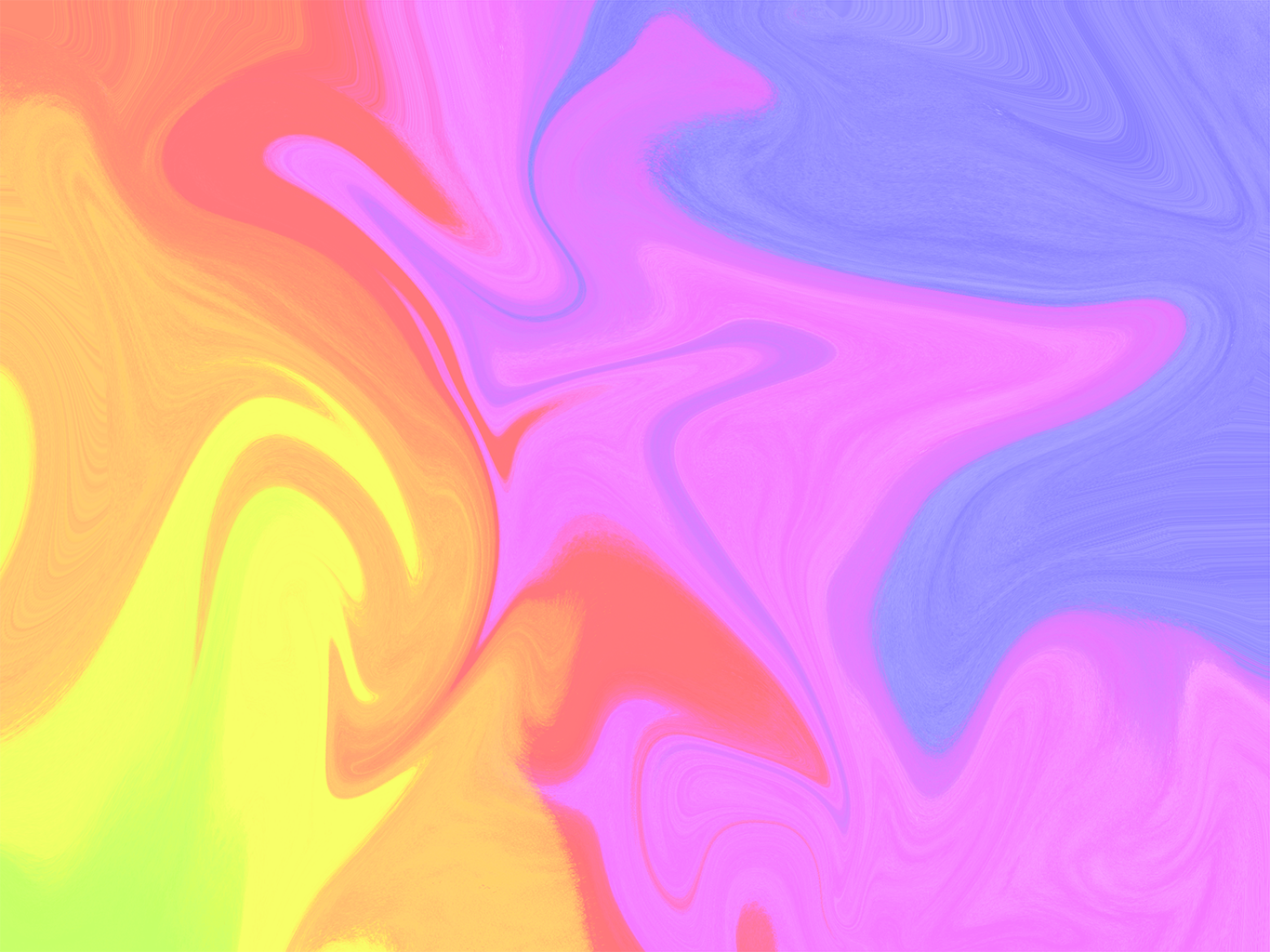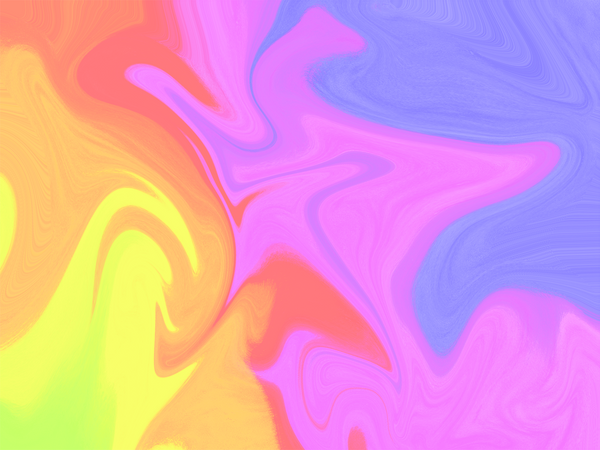 I started listening to podcasts a few weeks ago and one of my favorites is Happy Place by Fearne Cotton. In it Fearne interviews notable people from across the world and in each one asks: how do you get to your Happy Place? It's usually being mindful and happy with yourself.
In that context Fearne means emotionally but I reckon we all have our physical happy places too. Like the old rocking chair your grandparent used to sit for hours or a snuggly sofa with a plethora of cushions.
The majority of us who used to work in offices are now working from home. I'm sure everyone had a happy place in their office where they felt their most productive. I doubt it was their desk.
At home I love scrunching up on my sofa in my dressing gown with a candle lit. It feels so cosy and safe. Going to my happy place helps me unwind and relax my mind and body.
I also have a happy place away from home. I love walking up Avenida da Liberdade in Lisbon and up the steep hillside of Parque Eduardo VII. With the bustle of the city behind and the calm of the park in front it's fantastic.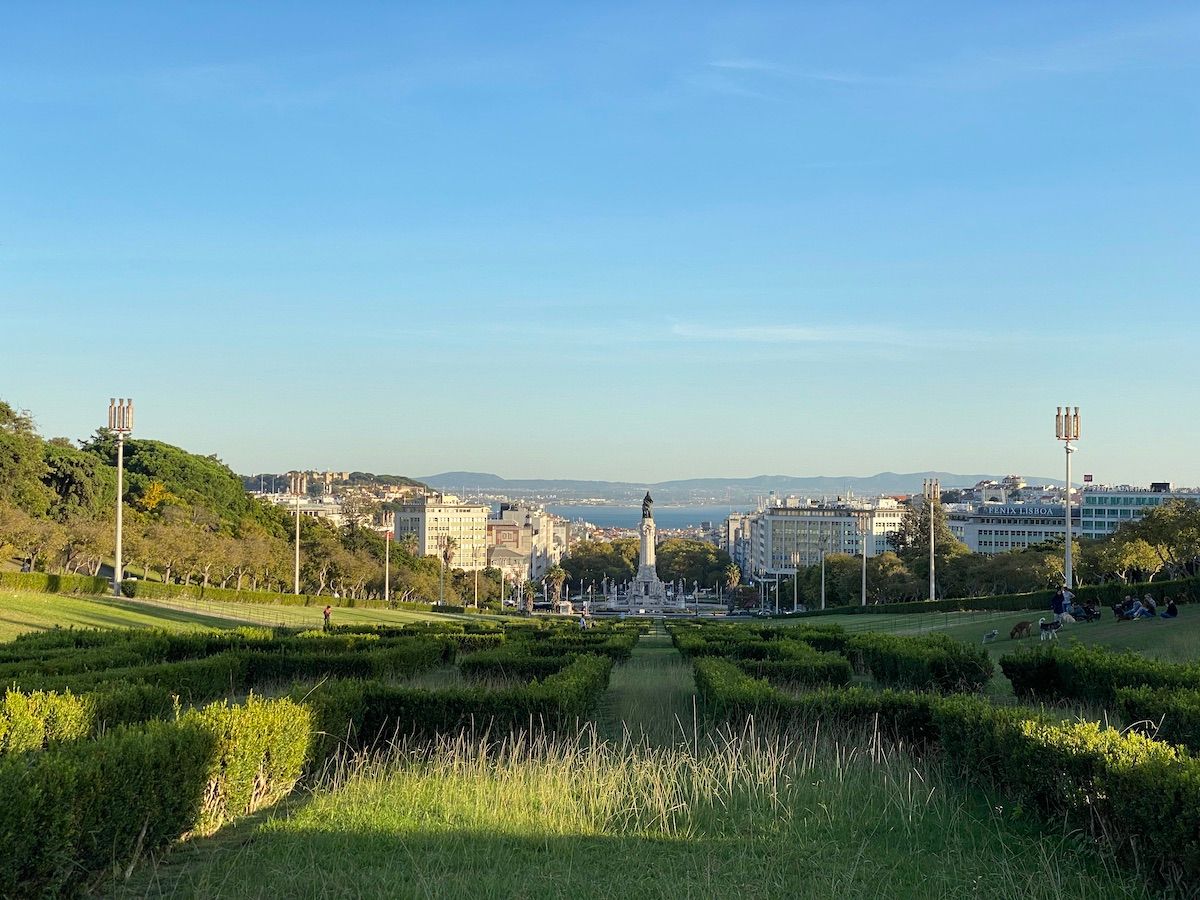 And it's only recently that I've discovered my work happy place at home.
Journey to a Work Happy Place
If you've read other blog posts you'll know I was traveling for around 3 years living in hotels around the world. It opened my world view and gave me amazing experiences.
But it wasn't all wonderful. Work was still there whether I was in an airport lounge or in the lobby waiting for a room. And this meant I didn't build my work happy place. Ever.
When the hotels changed the rooms changed. There were ones with sofas where I could stretch out and ones without so I ended up in bed all day. There were club lounges with free drinks and food with amazing views and ones without a lobby to sit in.
This ever changing environment meant I was always on my laptop so I was always straining my neck. I knew this wasn't ideal. I have a degree as an Ergonomist—ironic I know.
At times I'd stack books up to get my screen level. It was a haphazard approach that was certainly affecting my work and my health.
But then COVID-19 happened. I remember I was in Amsterdam in a hotel club lounge with wonderful food and drinks. A great environment but again neck strain. My partner and I were both concerned about the virus and looking increasingly erratic as we wiped down our table and washed our hands every 5 minutes. It seemed nobody else was concerned.
After a major debacle (a story to tell another time) we ended up in Lisbon to settle down. I tend to go on about Lisbon but for good reason—the people, weather, and food are all amazing.
And we tried hotels in Lisbon for a bit. The hospitality industry is in a fragile place right now and as a guest it's pretty uncomfortable. Hotels are about making people feel welcome and it's tough to do that when you're both wearing masks and you're either side of a plastic screen.
It just wasn't working for us anymore. The things we liked from hotels like the connection with people, good work environment, and the convenience wasn't there. We needed to find an apartment and step away from hotel life.
Little did I know I was trying to find my work happy place.
Components of a Work Happy Place
I knew what was important to me while working. I'd been doing it for 4 years but I'd never had the chance to go all out and experiment with different components.
Since my partner and I work together in the same place a lot of the time the desk needed to be pretty big. Enough space on either side with room in the middle sort of big. And so we went looking for a huge desk.
After a few trips (ok so like 5 or 6) to IKEA we found the one. We both deliberated. "Are you sure it's going to fit?" and "How many chairs are we going to have to buy?" both cropped up.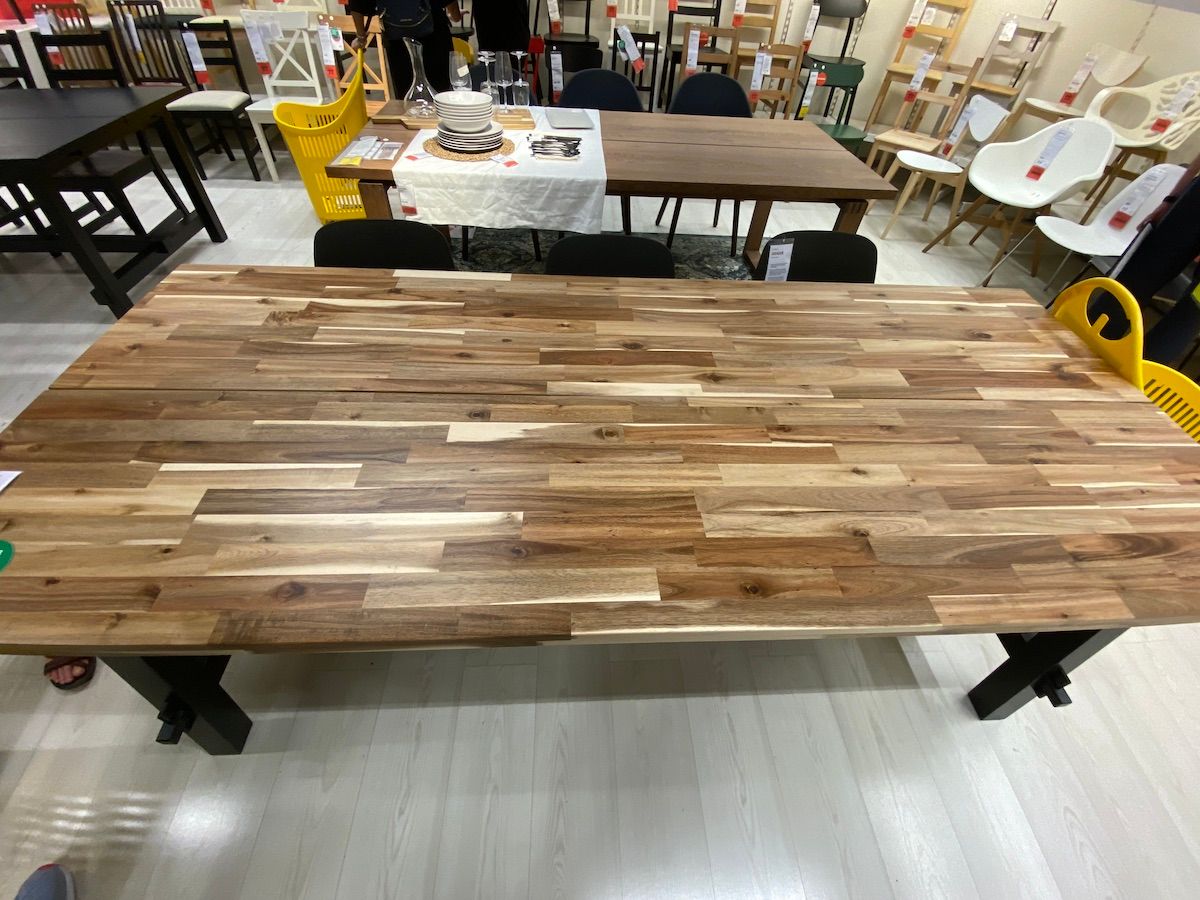 We went ahead and bought it. And it's fantastic.
Next was hydration. I don't know about you but unless there's water next to me during the day I don't stay hydrated. Coffee yes but water no. So we ended up making our own hydration station of sorts. We placed it in the middle so we both have access to water.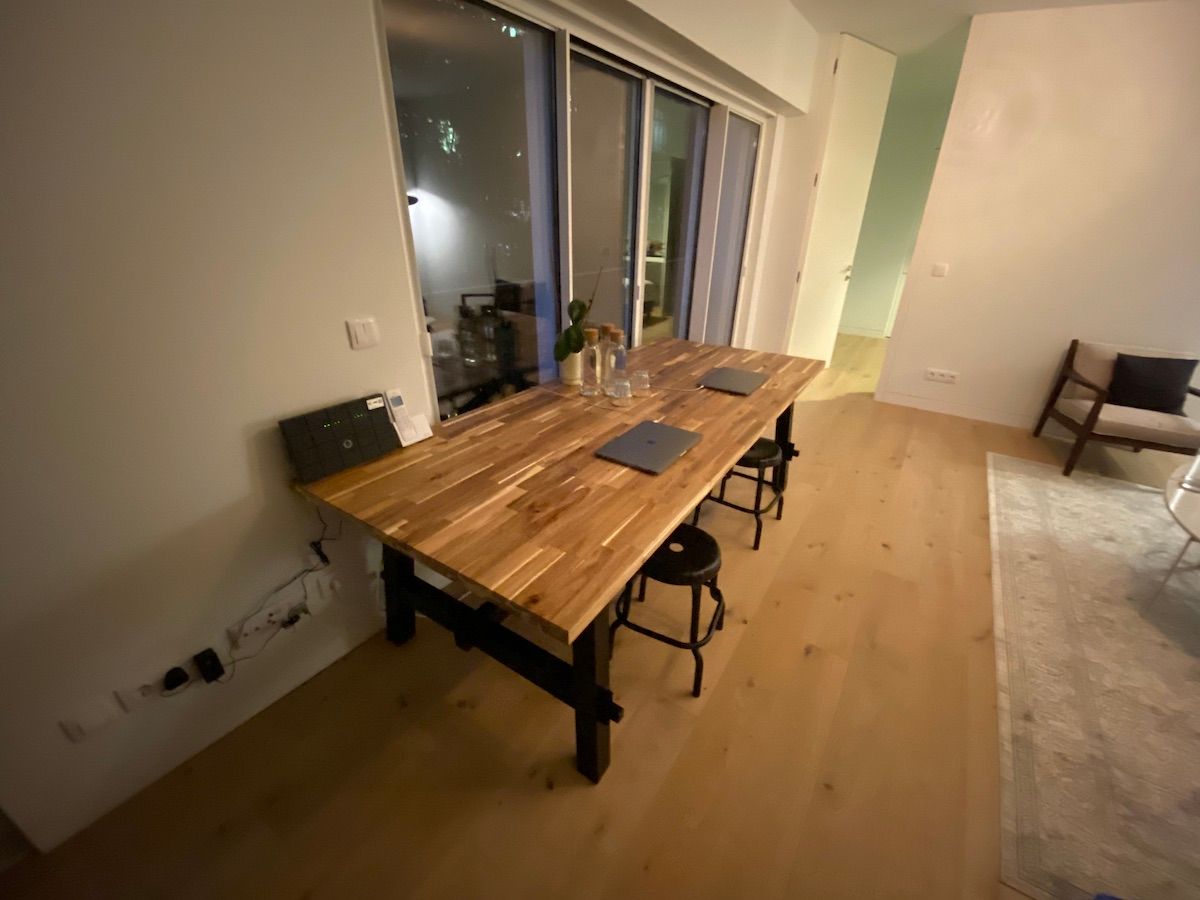 The final but most important component was health. It had to make a positive change to my health if I was to work at the desk for hours at a time.
The thought of monitors always confused me before. What's the point of having something you can't carry around. I almost forgot we weren't heading to another hotel.
After biting the bullet and buying 2 LG monitors I finally understood. My neck no longer hurt! Who knew that looking down at a laptop all day would do so much damage?! 😆 Plus there was so much space on the screen. I could have a few windows here and there and they didn't overlap.
But of course it wasn't all material. Building a work happy place needs to make you well...happy. We put the desk next to the windows with the beautiful green leaves from a type of tree I can't remember the name of.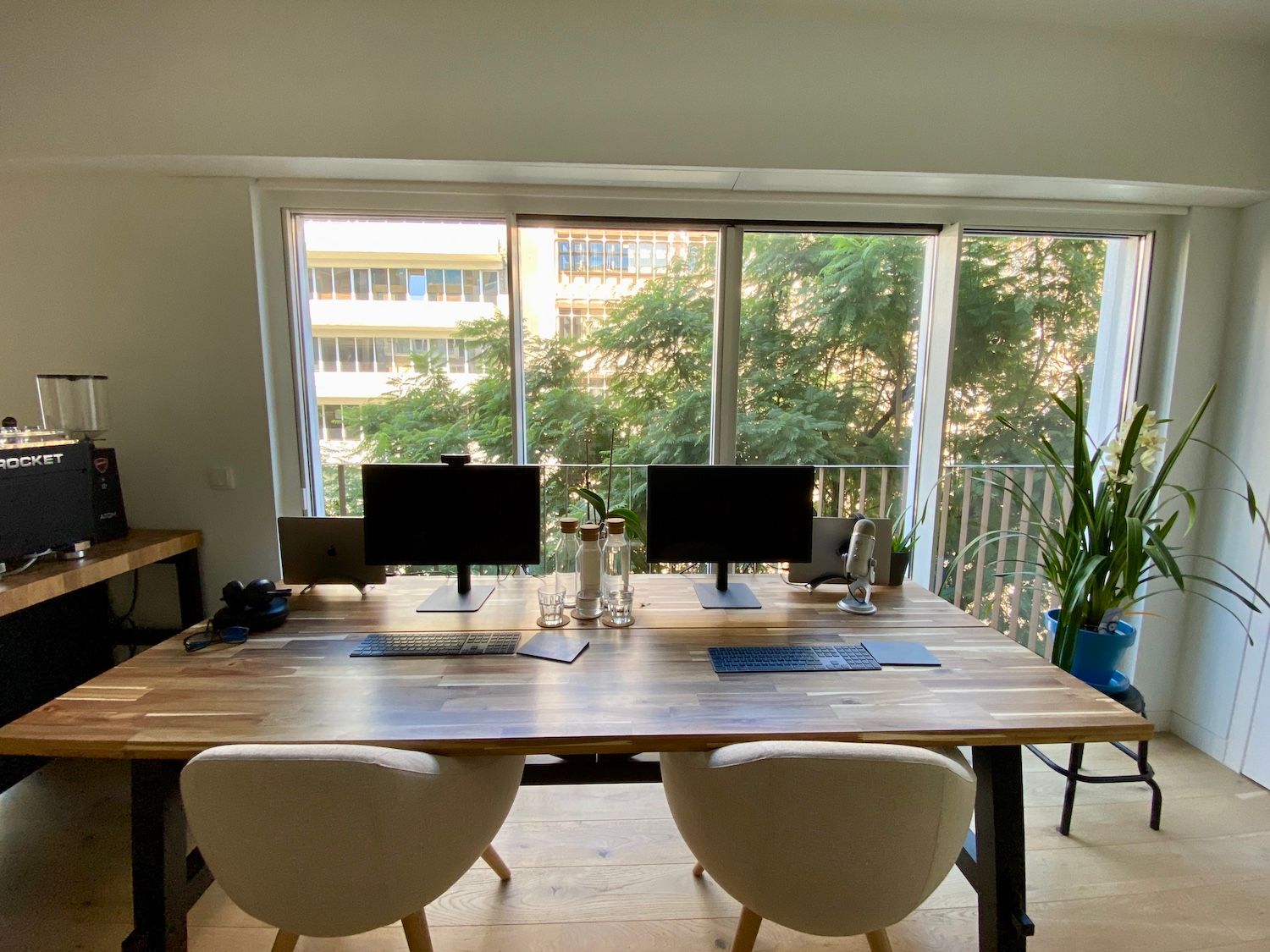 I love this tree. It's my favorite thing about the apartment. When the light hits the leaves at around 5pm it for some odd reason makes me so happy. It doesn't matter why but it matters that it does.
I also love the work separation it gives me. If I'm sitting on the sofa away from my desk I feel a little more relaxed. My home happy place.
Let's All Find our Different Happy Places
Before listening to the Happy Place podcast I hadn't thought about my emotional or physical happy places. It opened up my brain and made me think about whether I'd ever thought about what makes me happy. The answer was no.
We're all in a tough emotional position right now but it's a good chance to reflect on what we actually enjoy when everything was "normal".
And so I went out and explored what made me happy. I discovered I love going for a walk during the day. It makes me feel more connected with the world and people while being able to socially distance still.
I enjoy having some time away during the day from my partner to work whether it's in the room next door or outside a café.
I also discovered the joy of cooking and how therapeutic it can be. I can focus on something for an hour or so and have something (hopefully) delicious in the end.
While I usually avoid prescribing advice at all costs on this blog I ask you to think about this—what are your happy places?