Taking a step back from your computer can give you valuable insights into how to run your startup.
Despite running a SaaS business that's completely online, we think it's important to change things up once in a while.
When someone we both know told us they were setting up a local business, we jumped at the opportunity to apply our own techniques to help them get started. We wanted to see if our startup techniques would work when trickled down to a local clinic.
Sometimes taking a step back from your computer can give you valuable insights into how to run your startup.
And boy, we sure learned some smart strategies and lessons that helped us improve the way we do things over at HelpDocs. It worked both ways, though. Applying some of our startup techniques helped the local business start generating over £3,500 in the first month it was open.
Here are some of the surprising lessons we learned helping a local business get off the ground.
Price Isn't Everything But The Customer Experience Is
When you're working online it's easy to become hyper-focused on the certain things. One of those things is price.
There's no doubt price plays a huge role in where you position yourself in the market. It can also make a massive difference in keeping your startup alive.
Startups in particular have a habit of setting their price low to attract customers and never raising it, or keeping a feature free long after it's clear people will pay. —Sequoia Capital
Charging high hundreds or low thousands generally means you're targeting enterprise users. Any less than that and you're geared towards selling to smaller, growing businesses.
Use your judgement on where you think your product fits in the market. Make sure its perceived value matches up with the product.
But once you've decided where to position yourself in the market, it's probably best to leave it for at least a few months to see how things fly. Stop sweating over it every day.
A Premium Price for a Better Experience
So, back to the local business. The business owner decided to charge a little more than others in the local area and provide a better experience for customers.
It wasn't much more, but it was enough to know we needed to help make the experience 10x better than others in the area.
We decided it was best to make the interior inviting, warm, and homely. The majority of private clinics in the area were uninviting, echo-prone, and cold.
A color palette was the best place to start. Purple, grey, and cyan were chosen as the main colors. The owner spent a little extra fitting out the clinic with premium-looking doors, grey carpet, stylish furniture, and attractive plants.
It was totally different to the reception you'd walk into usually—and that's exactly what we were aiming for.
And it worked! People came in just to look at the interior.
Combined with the great customer service like offering a drink, opening the door for customers & taking the time to talk to locals, they started to book in. Some even enthused about how they referred the business to their family members and friends.
How This Applied to Us
How do you take a premium customer experience lesson from a local business and apply it to an online one? After all, paying extra for fancy plants for our office won't get us very far.
Live chat and support. That's how.
We've found the majority of our customers like to serve themselves, which makes total sense. After all, we've made it a pain-free experience to get your help center up and running.
But if customers do get in trouble, we love to offer premium-feeling customer support.
Often, we'll go out of our way to get a bug fix corrected within the hour. Or tweak a template to make it just-so for one customer (or at the very least provide some CSS to help them out). Much of the time we'll follow up with leads when we introduce a feature they asked for a while back.
So although we don't have the benefit of being able to offer our customers a cuppa tea, we can make them feel like we care—because we do.
Takeaway: Price isn't the main distinction to your competitors. Provide an amazing customer experience and you'll reap the rewards.
Facebook Is a Good Social Network to Be Active On As a Business
In the past, I wrote about how startups should abandon their Facebook pages and how it's not worth their time. I thought this because these pages seem to have a much slower growth rate (page likes, views, etc.) than a network like Twitter.
But since helping the local business set up their page, I've changed my mind. While you're unlikely to get 600 page likes in the first 6 months, that's normal. It's just a different kind of network.
And it's pretty darn effective for local business. Facebook adverts are especially fantastic as you can target potential customers in the local area.
Despite not being able to target surrounding villages with an online business, it's still a great social network to be on. The ads are cheap, and you just have to tweak your content for the type of audience.
Video, live-streaming, and human-centered content works far better as content for Facebook business pages. It's nothing like Twitter.
Boosting Efforts on our Facebook Page
We've since set up our own Facebook page and we're starting to see some growth. We've tweaked our content and started running some small advert experiments.
I've gotta say, it's working a whole lot better now. We've still got a ton to learn about Facebook and how to get the most out of the network, but it seems like our content is a much better fit.
Take Buffer's page as a great example of how to use Facebook as an online business. They regularly post videos, live-streams, and questions on their page.
Now it's just time for us to plan some video content for the future.
Takeaway: Don't give up on Facebook as a great social media source. Take advantage of the unique tools and content.
Use the Latest Tech to Run Your Business. It'll Save You Time & Hassle
We talked with the owner at length about their accounting, website and point-of-sale system (POS). There just didn't seem to be much out there that connected up all three essential bits. We would've gone for Square if it worked well in the UK.
But then, by pure chance and luck, Shopify launched their card reader which had chip & pin and contactless. It was exactly what we needed and so we chose to host the website and POS system with Shopify. We then connected up Xero and voila! The system was up and running for opening day.
The system could've been a massive hassle. Using a system like Shopify isn't exactly cheap, but it pays off in time and lack of frustration.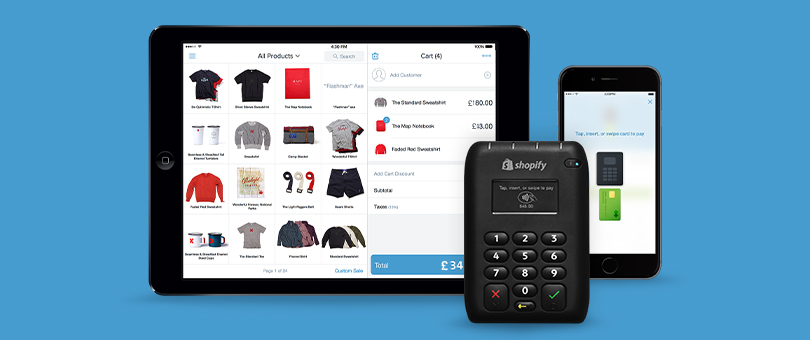 When someone wants to set up a local business, it's not because they want to deal with the IT system behind running it. Their passion is definitely elsewhere.
Don't Pay for Cheap Gains
Here at HelpDocs, we love buying software that helps our business run. It makes our job far easier if we spend a little extra on software which cuts out time and effort.
Don't pay for products you're never going to use (and cut out ones you're paying for but don't ever use). Just spend on things you need.
Takeaway: Despite an upfront cost, make sure you spend your money making your company easier to run. Check up on the stuff you don't use anymore.
Loyalty Counts a Lot
Customers keep on coming back to the business, time and time again. Even when they're told they might not need to come back. But because customers have such a fantastic experience, they want to book in again.
This is customer loyalty at its finest. Treat your customers right and they'll keep coming back for more. Treat them badly and they'll tell everyone.
While it may seem obvious, its often easy to forget where you started. The first paying customer is usually pretty tough to get, and getting them to come back for months (or even years) is a tough ask.
But providing extra support, goodies, and little notes usually makes all the difference. Reward your most loyal customers.
Takeaway: Don't forget where you started. Offer rewards and extra support to those most loyal.
Final Thoughts
The local business is now booming and the startup techniques we applied seem to be working to get more and more customers in the door.
We've learned a lot about how to make a local business different (unique selling point) and how to treat customers (customer experience).
We're excited to carry on finding more ways to build a product people love and support them every step of the way.
Got any experiences in using startup techniques for a local business (or vice-versa?). We'd love to hear them in the comments!