Just under a year ago, my cofounder and I set out on a mission—to create a knowledge base that worked and looked great out-the-box. It's coming up to HelpDocs' first anniversary and I'm extremely proud of how far we've come.
While I'll happily admit made some mistakes, we've managed to create a product worth paying for and we're stoked to serve our awesome collection of customers from around the world.
Customers who've created awesome eCommerce stores, fintech software, education products, business apps, and much, much more.
I'm super excited to release the awesome stuff we've got in the pipeline this coming year. Until then, here's what we've been squirreling away on these past few months. 🐿
Admin Dashboard Interface Overhaul
We decided the admin app needed a little refresh in time for Spring. While the usability was pretty sound, the user interface needed a little facelift.
So we took what we had and added cards, new buttons, and a simple design. I hope you like it as much as I do!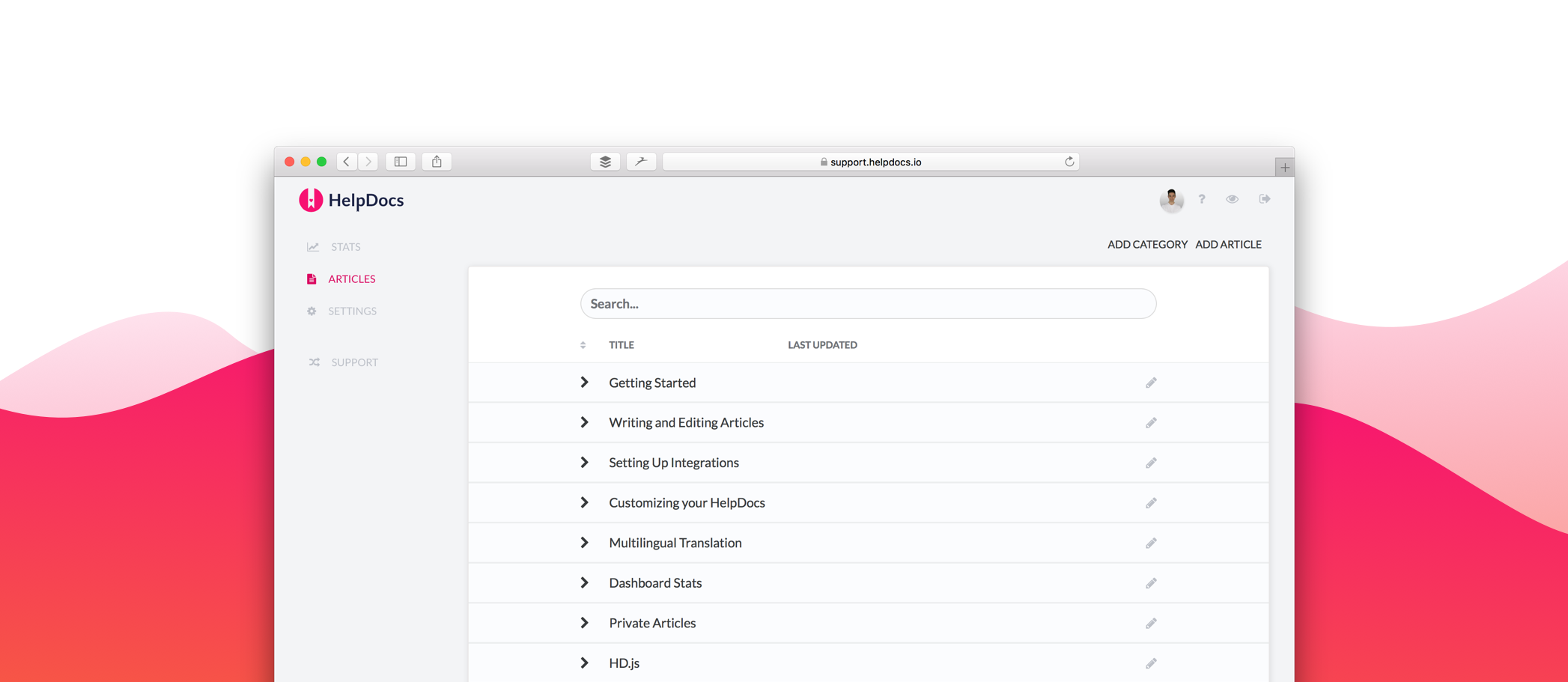 New & Improved Integrations
Gorgias


Nowadays, customer support tends to be spread all over the web. An email here, a Facebook Message there, a live chat response buried somewhere else. 🤦‍♂️
Gorgias makes it all a lot easier by bringing these channels together into one dashboard and providing you ways to perform common actions, like refunding a payment.
With Gorgias & HelpDocs, you can easily add your live chat widget to your help documentation. All it takes is a snippet of code.
Crisp

We've added Crisp to our line up of customer support integrations. It's a super easy way to get started with chatting to visitors and users.
Like all of our live chat integrations, just copy a snippet and get chatting to knowledge base visitors. It's a breeze.
Front




We love using Front and linking to your docs from email has got a whole lot better. With our sparkly new plugin, it's even quicker and easier to point customers in the right direction. Here's a link to go download it.✨
Status Page
One last quick update—you can now keep an eye on our uptime thanks to our awesome new status page.
When we're down (which is like, never) you'll know it's not your fault! Peace of mind is great, right?
Updated Terms & Conditions
We've updated our terms and conditions. While not the most interesting read, you should review them here.
Other, Smaller Stuff
| | |
| --- | --- |
| | Drift conversations weren't ever counted as contact forms. We've fixed it and now they are! |
| | Our carrier pigeon got stuck in a hole and aging emails weren't being sent out properly. We helped the little guy out and now they're working again. |
| | Quicker search on the content table within the admin app. It's now lightning fast. |
| | Better onboarding with correct header styles for color picker. Also created a new theme picker and language picker. |
| | Bumped up our servers for speedier performance. Now it's as fast as a Gazelle. |
| | Cmd/Ctrl + S to quickly save an article without clicking anything. Great for keyboard warriors. |
| | Choose the caption style for text in formatting and you'll get a nice italic grey font in your article. |
| | Article sort order is here. Now rearrange your articles just like your categories. |
| | Reset default language strings, just in case you wanna go back. |