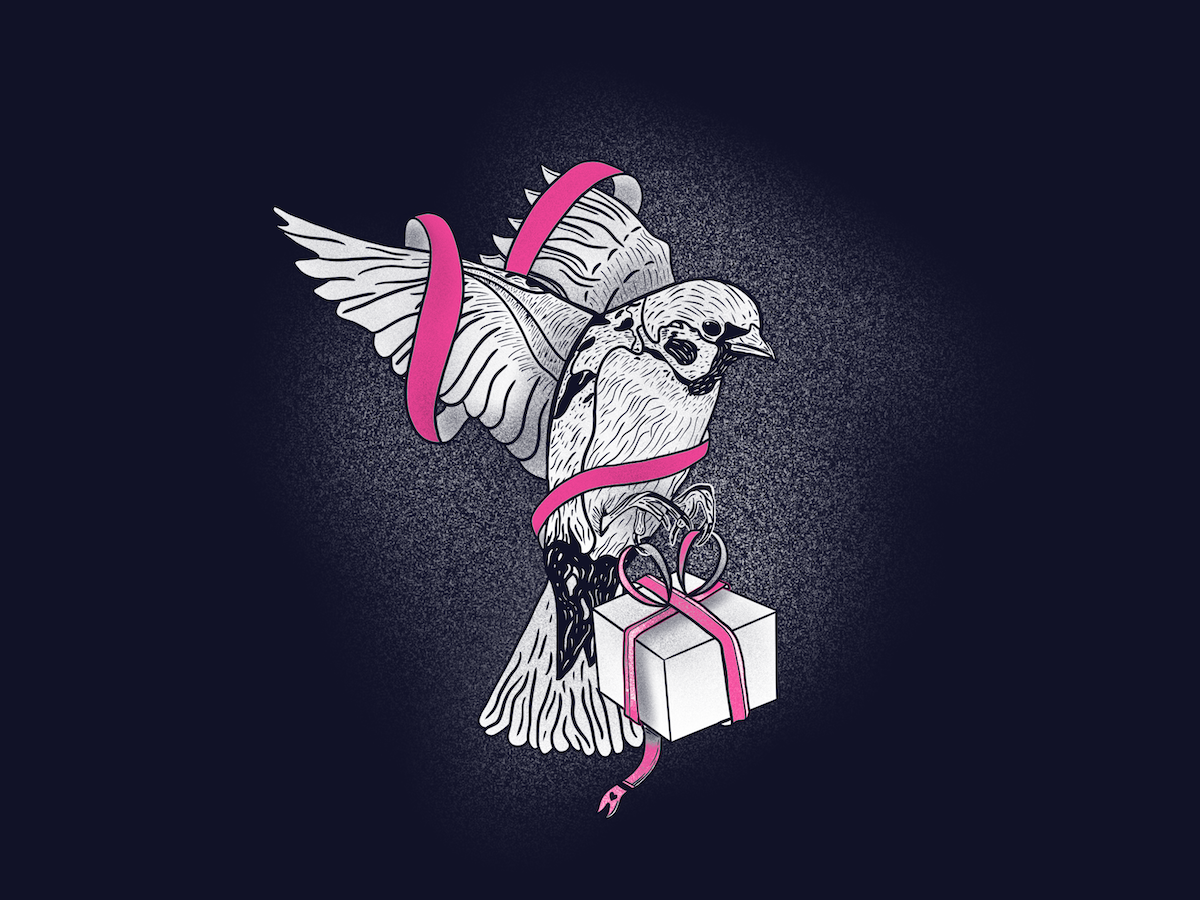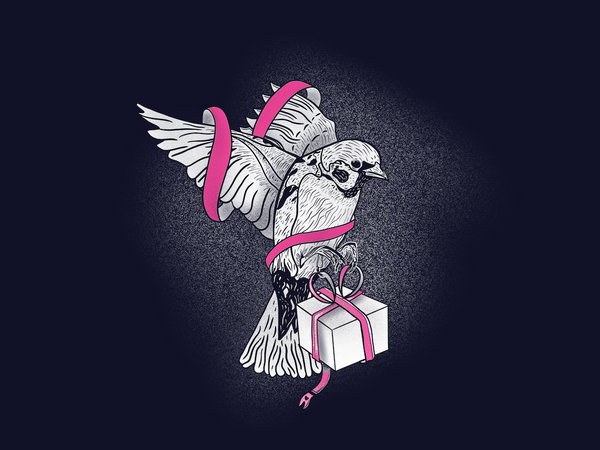 This is one of our biggest updates yet. HelpDocs is a lot smarter, easier to manage, and quicker too. With greater management features to dramatically speed up your workflow you'll be able to free up time to create and improve your articles.
Find It Quicker with Sidebar Search
Here's the scenario—you've got hundreds of categories and thousands of articles. You're looking for that one about invoices. Rather than clicking on a load of categories to try and find the article wouldn't it be great if it was pointed out for you?
That's why we're introducing smarter search. And you can find it in the sidebar to the left today.
This upgraded search gives you the ability to find and navigate to articles and categories in seconds. No more wondering where you put that category or article. Just search for it.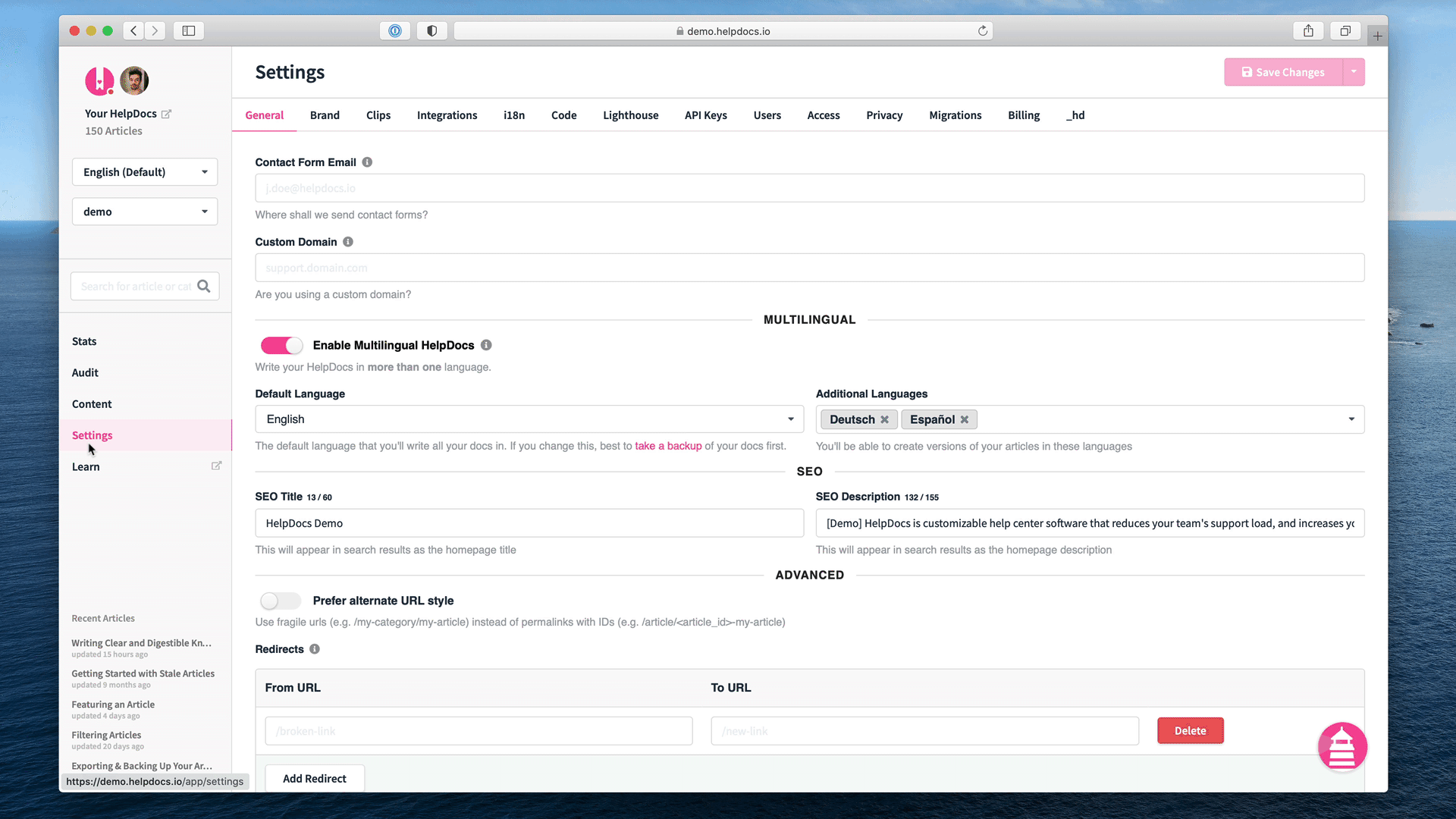 Add, Remove, and Sort Users in a Click
We've completely re-engineered our user management so you can sift down 10,000 users to 1. You can filter users by name, email, activity, user group, and role so you'll find Jenny who's part of the engineering team in seconds.
You can also sort them by name or role by clicking on the column title and whether you have 5 or 5,000 users you'll find that the list just keep rollin'.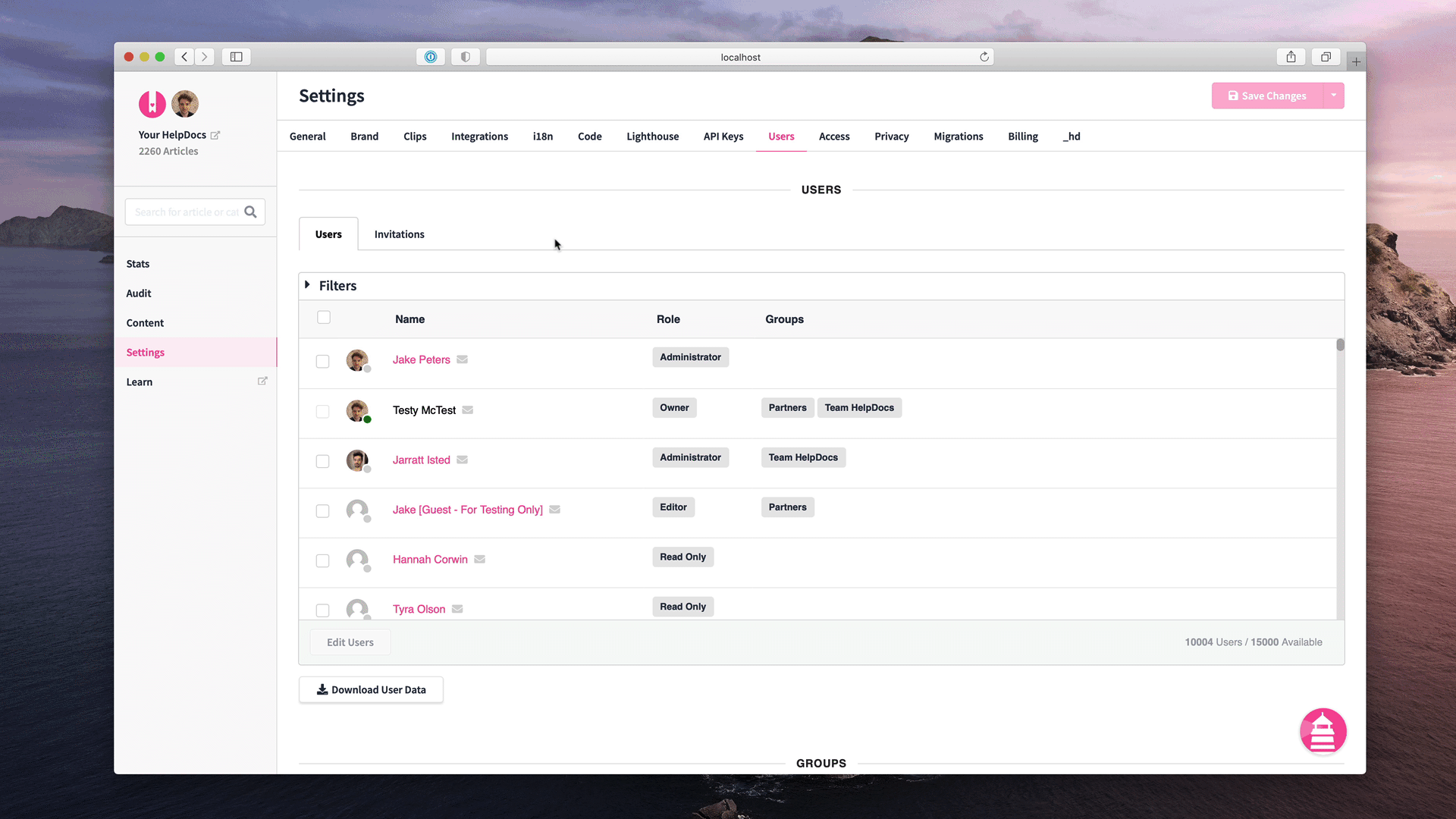 We've split out users and invitations into different tabs so it'll be obvious who's onboard and who isn't. The invitations tab hasn't been left out—you can filter by email and role, and even bulk select there too.
So whether you're applying user groups, changing up roles, or sending out invitations you'll be able to do it a lot quicker which means you can all contribute to making your knowledge base shine.
Powered Up HTML Blocks
You've made a custom component using our HTML blocks and you're previewing your article with each change to see what happens.
We've rebuilt our HTML blocks so you can dramatically reduce your workflow by showing you a preview right inside the text editor. Just click the Preview tab and you'll see your changes right there and then.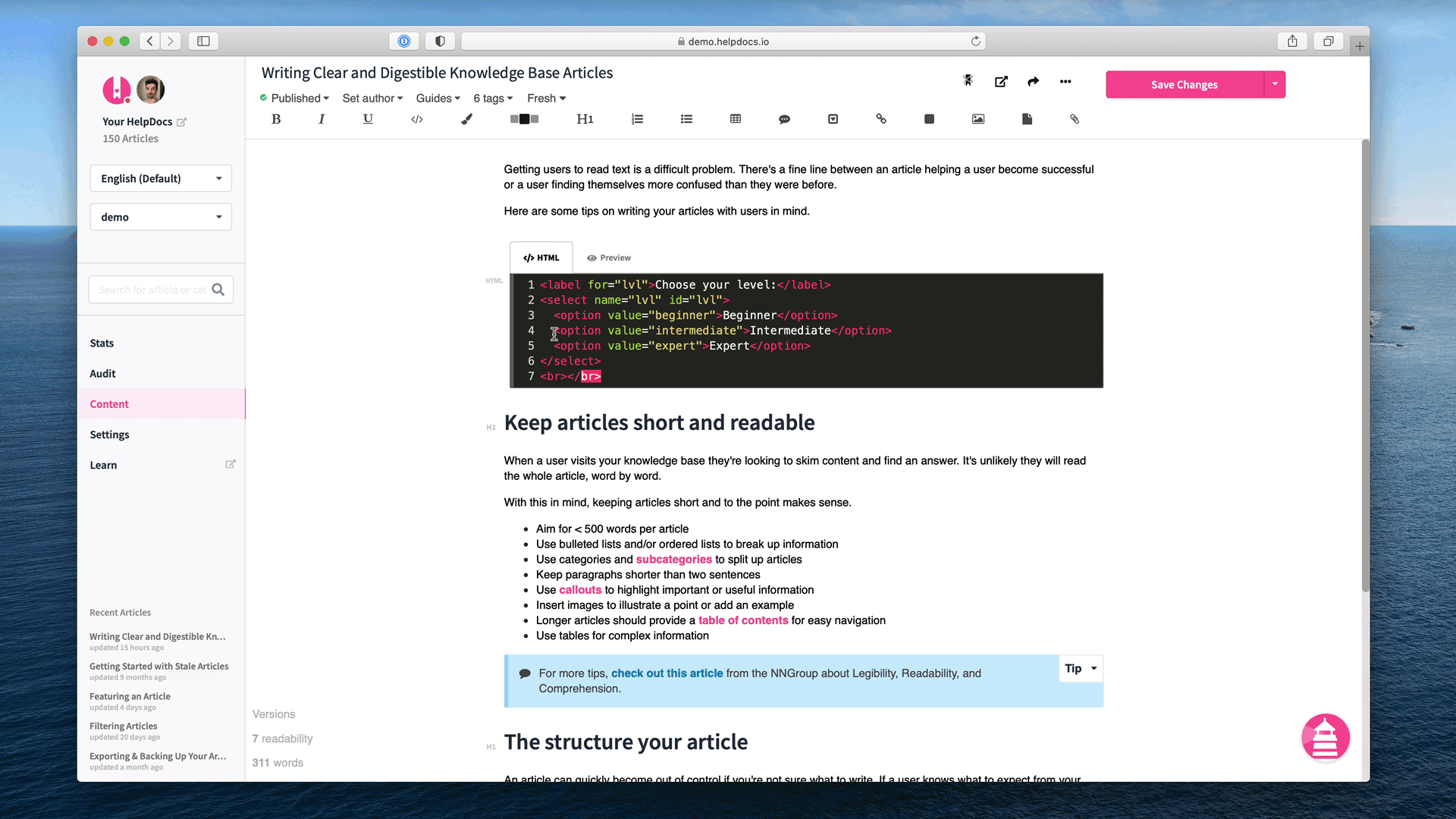 We didn't stop there though. When you go back to your article you'll find your code tidied up for you. Leave and mess of indentations and it'll be neatly packed when you get back.
Images Fine-tuned
The image modal now packs a punch. Not only can you edit the size, alternative text, and add links but you can now replace your images.
The redesigned image modal means you can edit images even more quickly. Then if you want to replace the image altogether you can click the Image divider and you'll be able to pop your new image on top.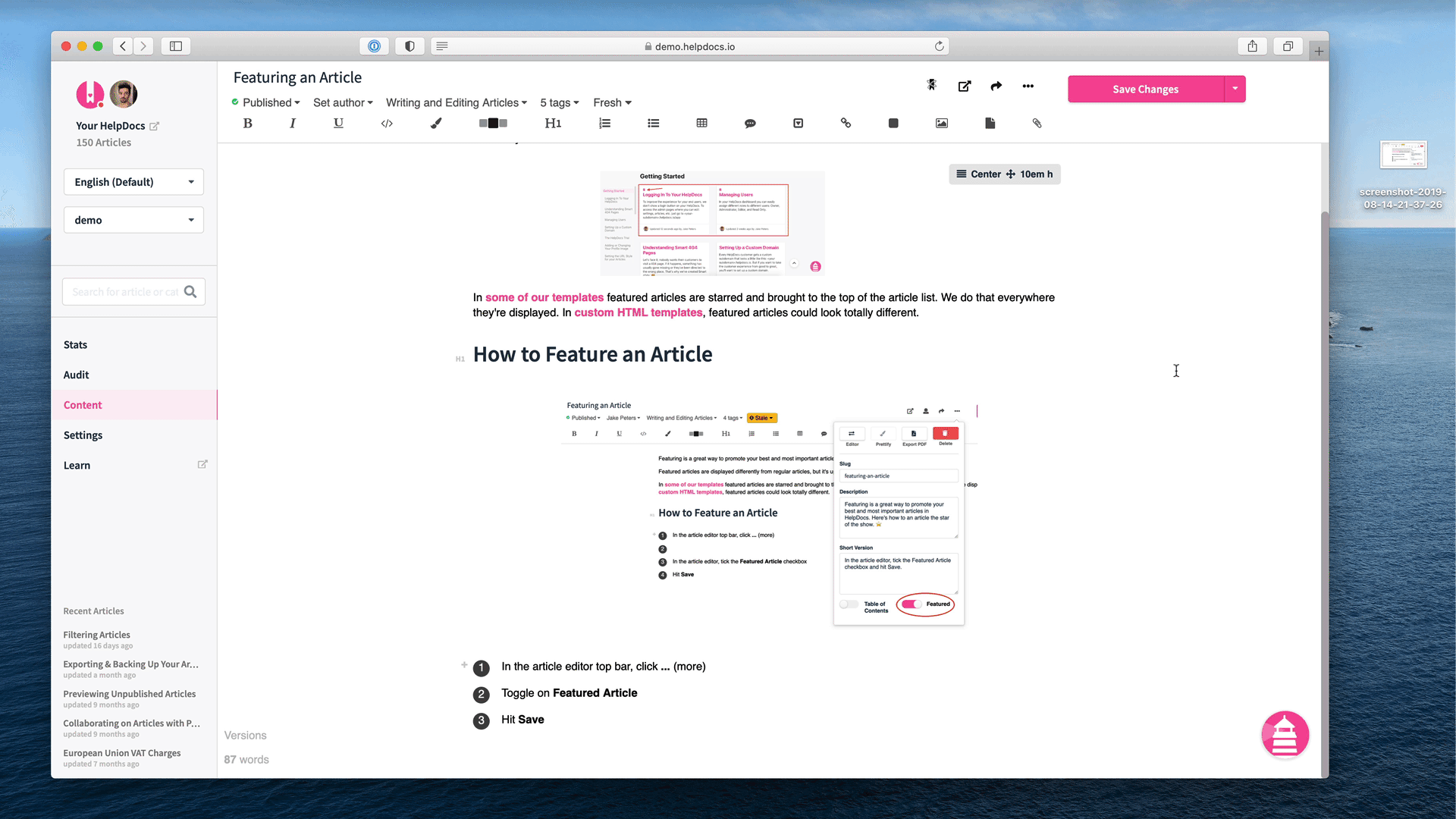 No more deleting and uploading. You'll be able to do it in one go.
Other updates this month
Here's a list of other improvements we've made to HelpDocs this month.
💝 New
We show you a notification to add a redirect when you change a URL so y'all get less 404s
You can now bulk update invited users so less clicking
We've moved machine translations to a credits-based model to let Growth users purchase/manage credits after their first 100 every month
⏫ Improvements
Lighthouse moves courteously for Gorgias campaigns and chat messages so you can send messages without them being hidden
We lowercase all emails provided for all identity providers
Our readability calculator got an upgrade (and gets less angry at you)
Lighthouse reloads the language_code when you use the reload() function
URL Builder shows alternate link style even when category or article hasn't got a slug
The contact form emails retain new lines so they're even more readable now
We take even weirder characters into consideration when showing search results
The Intercom integration now works inside Answer and Resolution Bot
🔧 Fixes
Bulk select tools now deselects all users/articles/categories after they're used. No more tidying up for you 🧹
Intercom integration multilingual selector no longer allows you to select the language you're already on...since you're already on it
Search results appear clearly now the rain is...I mean the search bug is fixed on .dev domains
We now respect alternate link style in search results when an article's updated. R.E.S.P.E.C.T.
Ordered list manual numbering controls no longer break when a sibling list gets removed
Article feedback CSV download failed on special characters. It doesn't anymore