Last year we released a multitude of updates, from our lightening-fast instant search to smart 404 pages to assist lost customers and guide them in the right direction.
This year, we're committed to shipping even more to give you the tools to help your customers and team succeed. This month I'm proud to say we've already managed to release three major improvements to the platform.
Here's what's new and improved.
A new app built from scratch

Organizing, writing, and setting up your knowledge base needs to be a fluid experience for you and your team. We felt like our old admin app was starting to become a little outdated and building upon our MVP was proving trickier each month.
That's why we invested heavily into getting a brand new version out. It'll make writing and publishing your docs so much easier and faster.
Not only will it make it easier for you to keep your docs running smoothly, but we'll also be able to ship more stuff with it as our base.
Instant search v2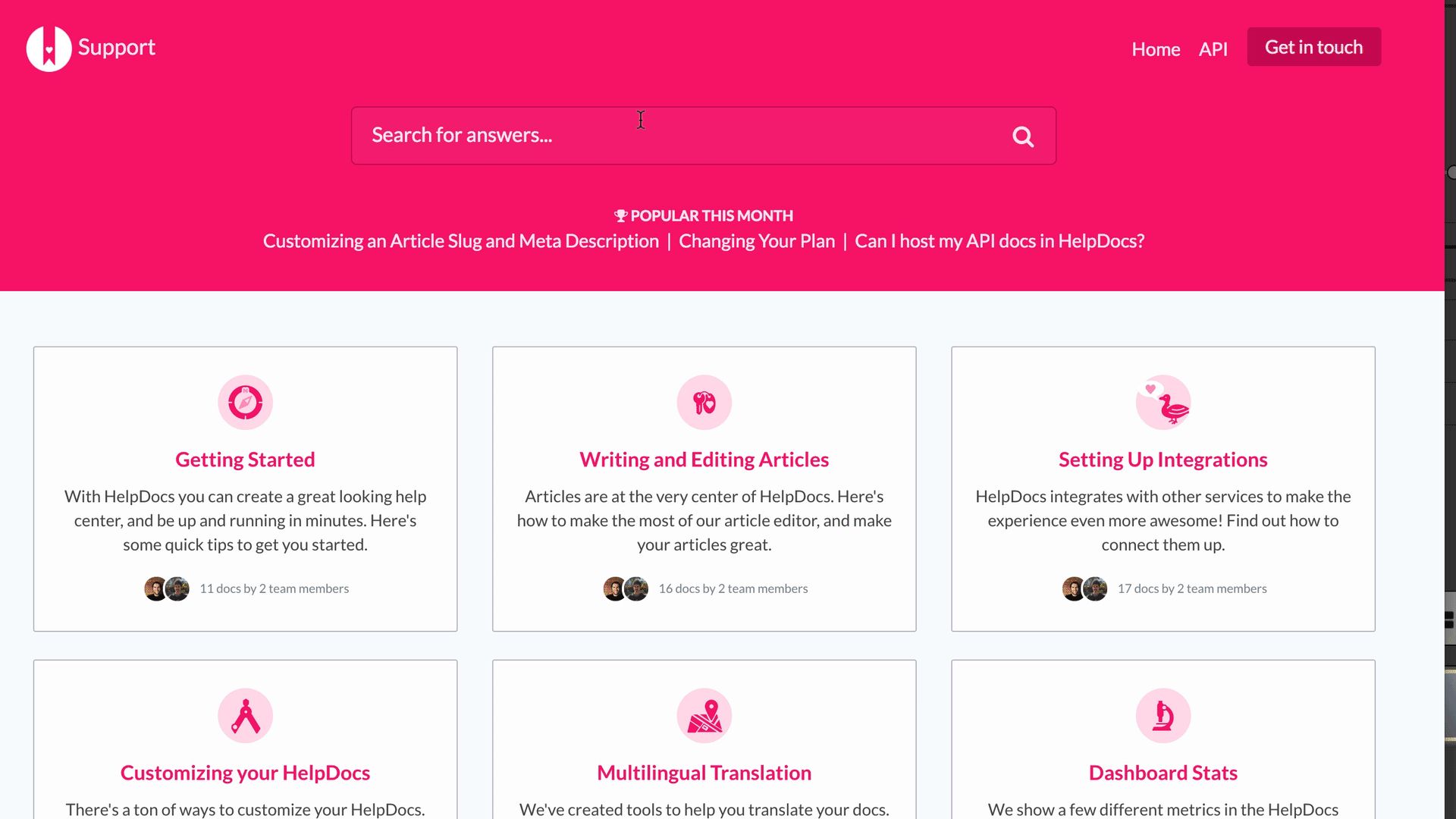 We've been working on making knowledge base specific search super quick and accurate since we started. We've adapted our algorithms significantly to match a query with an article. After all, if a customer can't find an answer it's not very useful.
I'm proud to say we've upgraded your instant search again. In short, we now dynamically change the type of search we use based on how the user is typing.
Your customers will get the most relevant results based on their search and now how they're searching for it.
Bars template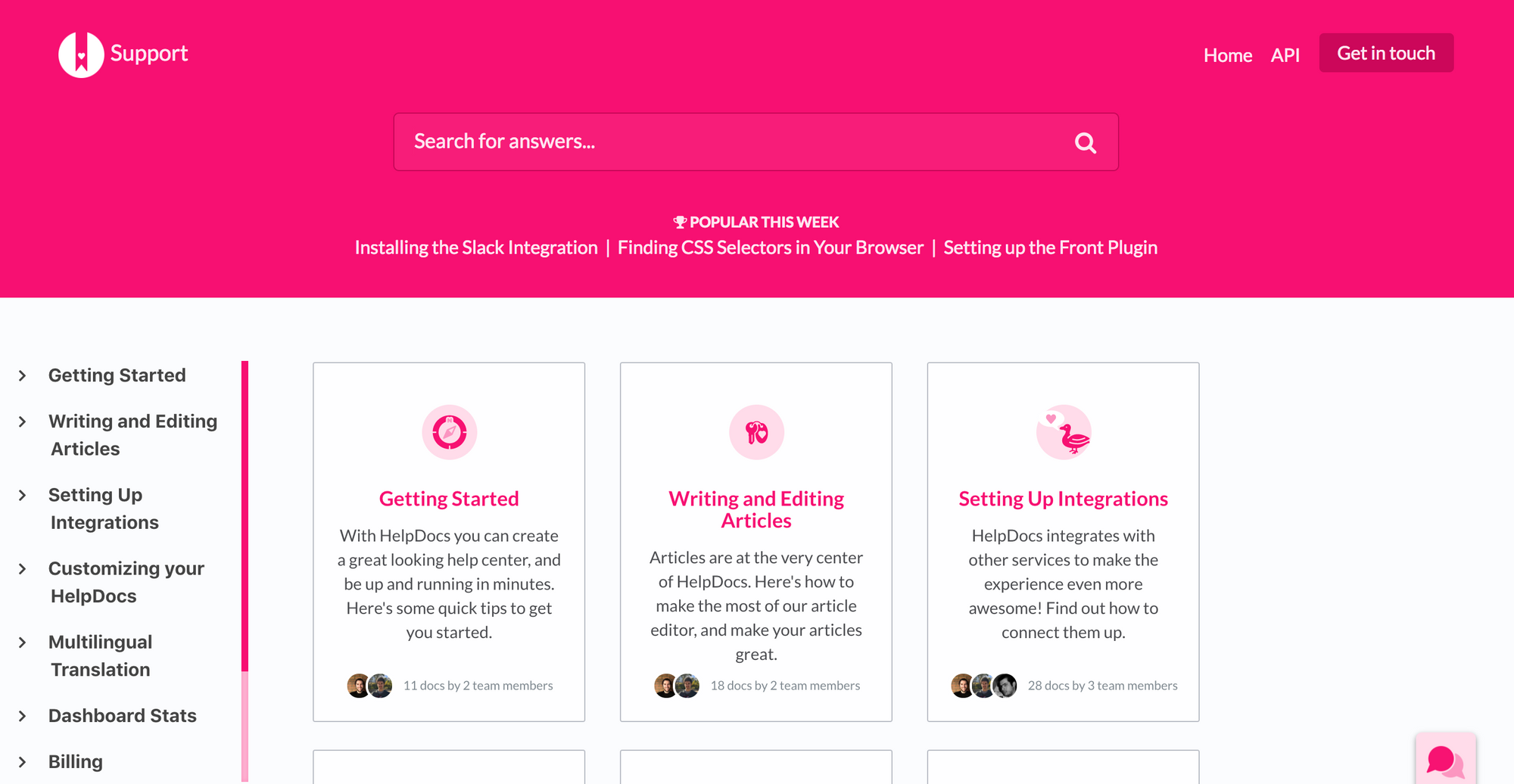 When we started HelpDocs the majority of our accounts had less than 200 articles. As we've grown so have the numbers of articles our customers have on their knowledge base.
And so it made sense to introduce a new template that's easy to navigate with >200 articles.
It's called Bars and it's pretty nifty. With a collapsible sidebar and colored scrollbar, it's no problem for your customers to navigate your articles with ease.
You can take it for a spin by heading to Settings > Brand and selecting Bars in your account. We hope you like it.
Extra bits & bobs
Fixed The category and article sidebars were scroll-less. Now you can actually scroll and reach the save button. Hurrah!
Fixed When you switched to HTML mode in the editor it wouldn't apply those changes. For those HMTLers out there, you can rest easy now.
Fixed Nobody was verifying their emails. Probably because we weren't sending them emails to verify their email. 🤯
Fixed We added Internet Explorer polyfills, because well, IE isn't very good. When will be become obsolete? We hope soon.
Better The Front plugin uses our super snazzy instant search v2. So get searchin' and insertin'. 🕺
Better Larger account were seeing performance issues because of their largeness. We went ahead and made it fast again.
Better We made the code editor for HTML templates taller so more code is viewable. Scrolling is no fun when coding, right?
Better Users didn't like that we called their article bad in the readability section constantly. We switched the way we calculate and display it now. Sorry about the insults. 😅
Better We've dramatically upgraded our infrastructure, so a better, faster, and more reliable app for you. 💯
New We set up helpful onboarding emails. We hope they help you get started.
New Learn about how to connect integrations with new buttons underneath linking to our docs.
New We released our new marketing site. We hope you think it's snazzy 🦕