We've been building HelpDocs for just over 6 months now. We get dozens of feature requests each day, and one of the most common by far is internal docs.
In fact, some of our users have been using HelpDocs internally since the start.
They've hacked it into their workflows, and made it work for them. I wasn't exactly eager to add internal docs to the platform. Mostly because I thought it would confuse things. And after all, isn't that what Confluence / Google Docs / is for?
Turns out people were looking for another way. An easy, lightweight, way to share information with their team.
So we started beavering away, seeing what we could come up with. And how we could keep the user experience awesome for external docs, while adding flexibility with internal.
Today, I think we've done that.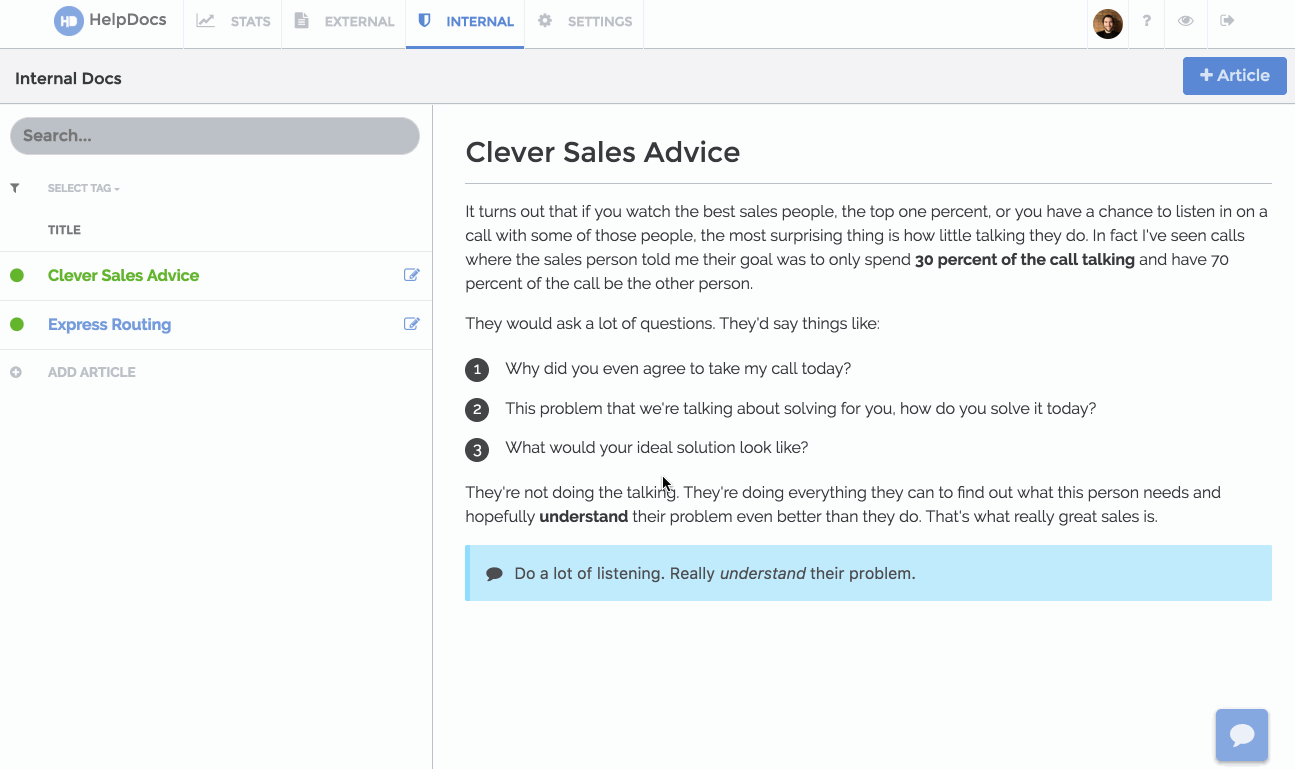 Lightweight Internal Docs That Look Great
All the formatting options you've come to love from HelpDocs are available for your internal docs. Create great looking lists, elegant callouts, and format to your heart's content.
We've stripped out the concept of categories and replaced it with tags. You can add as many tags as you like to each document, and search by tag later.
Speaking of search, we've brought our realtime search into the browser. Now it's more like instant search. We'll instantly show you the best match for your query.
Oh, and we've baked in our article revision system too. So you'll never lose your important work.
Enhanced Privacy and User Permissions
When you create an internal article it's private to you. When you're ready to share it with your team, just check a box.
If a teammate has editing permissions (more on that in a sec), they can collaborate on the content of the article. If not, they'll just be able to view.
To support internal docs we've added a ton more user permissions and roles. Now you can choose whether a teammate will be able to view external or internal docs, and whether they can edit.
Changing Focus
Adding internal docs to HelpDocs means we're changing focus a little. We started out making the very best platform for hosting your customer-facing docs. Now we're making the best platform for all your docs.
We're still right at the start of our journey. But we're moving fast. If you wanna keep up to date, check out our email newsletter or follow us on Twitter.
Happy writing!