At Front, we're passionate about helping companies communicate better. Thousands of teams use Front's shared inbox platform for customer support that feels friendly and personal, with the powerful features of a help desk working behind the scenes.
With Front powering great support teams around the world, it's ironic that after our first three years, we hadn't hired a single customer support rep. Our engineers and CEO were managing every request themselves.
The benefit—and cost—of a distributed team
With half the team in France and half in the US, Front had the benefit of being able to provide 24/7 support.
Our co-founders, Mathilde Collin and Laurent Perrin, were the most active support agents at the time, which proved beneficial in several ways.
First, they kept the feedback loop between customer requests and product iteration as short as possible. Then, as product experts, they could deliver detailed support in no time.
And, last but not least, customers feel really special when they realize that their support request is handled directly by the CEO 😉.
Having a distributed team in the critical early days of the company turned out to be challenging logistically and culturally, though.
The product team in France seemed less engaged and unhappy being far from the core business team. The product needed to evolve quickly and adhere tightly to the needs of customers, so the disconnect was damaging. To iterate as fast as we needed to, we had to reduce the physical distance between the teams.
Our founders decided at that point to move the whole team to San Francisco, allowing everyone to work together under one roof.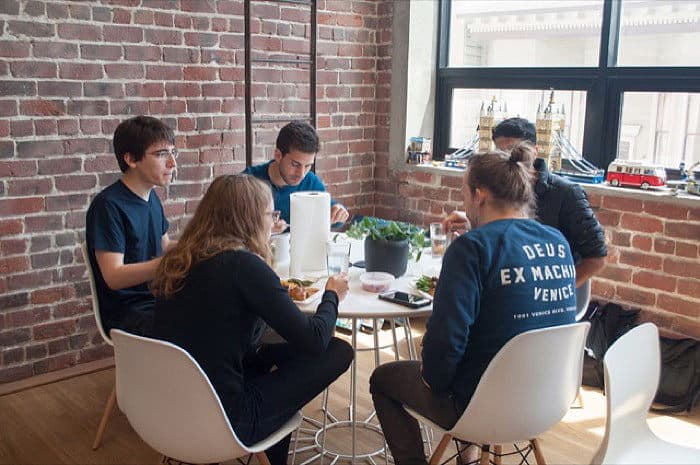 Put simply, the reason was company culture, something they both see as one of the most important aspects of the business.
Since we strive to help teams be more transparent and collaborative — we needed to make sure that we were modeling that ourselves.
When it's time to hire
With everyone in the same timezone, our global customer base presented a challenge. How could we continue to provide "always-on" support at our current size, much less scale that as we grew?
Wary of the risks of hiring too quickly, Mathilde and Laurent decided to put all hands on deck before hiring a dedicated support rep. Every employee — them included — was tasked with an on-call shift for support requests each week.
As Zappos CEO Tony Hsieh put it: "Customer service shouldn't be just a department; it should be the entire company."
The demands of the support inbox grew along with the business, and eventually there was a clear need for a customer support rep (that's me!).
I joined Front in July 2016 to take the lead on support, but the spirit of "all hands support" hasn't faded. Everyone pitches in: account executives manage support for prospects, engineers handle technical issues (almost 40% of our requests), and customers might even get a message from Mathilde or Laurent.
Treat customer support as the backbone of your brand
Companies often take the moment they hire their first support rep as the moment when support is no longer a team-wide responsibility.
With a dedicated person or team handling requests, you'd assume the support "problem" has been taken care of, right? Wrong. Since customer support quality drives brand loyalty and repeat purchases, customer support is quite literally everyone's business. Shouldering that on a single team or individual is a lost opportunity.
Zappos provides a great example of a company that has built their business around incredible customer support.
There, Tony Hsieh has instilled in his entire team that "every employee [affects] your company's brand, not just the front-line employees that are paid to talk to your customers." The customer support team is that front line — managing return requests, exchanges, refunds, and more. But they are the communicators of a broader company culture that puts customers first.
Zappos has figured out how to scale what we've seen work at Front: a great company culture that puts customers first leads to a great company brand. As a customer support leader, you can be a powerful advocate for building and maintaining this culture as your business grows. Here are my most important learnings thus far:
Foster an "everyone does support" culture. Whether it's maintaining a schedule of shifts, highlighting ticket trends at an all hands meeting, or using a transparent platform like Front to make feedback easily visible to the rest of your team — find a way to get your team invested in support. Your customers will thank you!

Help customers help themselves. Keep your knowledge base updated and surface themes from customer feedback to the product team to solve higher order problems. This frees up your time to focus on giving a great experience to customers.

Ask for help when you need it. If you're stuck on a customer issue, don't hesitate to escalate it to your team so you can resolve it quickly. There's the added benefit of keeping customer problems top of mind for your entire organization.
As Front's customer support manager, my goal is to give our customers the help they need as quickly and concisely as I can.
In providing this level of support, I'm helping to build our brand: I want them to talk about our service to their friends, remember it, and, ultimately, come back for more.